Board of Directors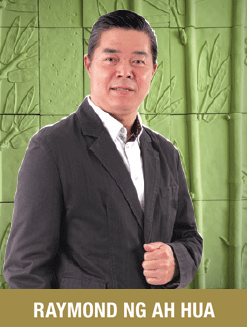 Mr Raymond Ng Ah Hua
Executive Chairman
Mr Ng joined the board on 28 October 2004 and was last re-elected as Director of the Company on 28 April 2016. He is a member of the Nominating Committee. As the Executive Chairman, he is responsible for the Group's overall management, business development, investment decisions as well as strategic direction and planning. He has developed a keen and astute business mindset which has enabled him to identify business opportunities, and is instrumental in spearheading the Group's new business transformation into an environmental hub. He has accumulated over 33 years of experience in the recycling and e-waste management & recovery business. He is also an accomplished property developer with more than 18 years of industry experience.
In recognition of Mr Ng's contribution to the community, he was awarded Public Service Medal (PBM) Award in 2003 and Bintang Bakti Masyarakat (BBM) Award in 2014. He has also received a Service to Education Award – Silver in 2010 by the Ministry of Education, Singapore.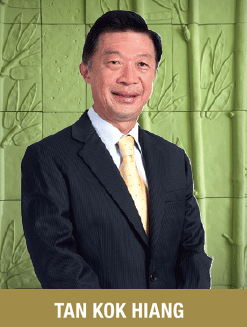 Mr Tan Kok Hiang
Independent Director
Mr Tan joined the board on 21 May 1999 as an Independent Director. He was last re-elected as Director of the Company on 28 April 2016. He is also the Chairman of the Audit and Remuneration Committees and a member of the Nominating Committee. Mr Tan has more than 30 years of experience in accounting, corporate finance, strategic planning and business development. He holds a Bachelor of Accountancy (with Honours) from the University of Singapore and is a member of the Singapore Institute of Directors. He also sits on the boards of a few other public listed companies in Singapore.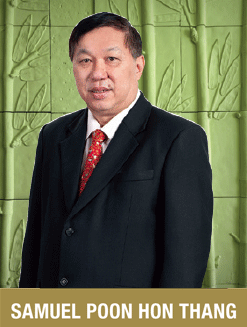 Mr Samuel Poon Hon Thang
Lead Independent Director
Mr Poon joined the board on 26 September 2006 and was last re-elected as Director of the Company on 25 April 2018. He is also the Chairman of Nominating Committee and a member of the Audit and Remuneration Committees. He was further appointed as Lead Independent Director on 25 February 2016. Mr Poon is a distinguished former banker with experience that spans almost three decades in the financial industry. From 1979 to 1988, he served at Citibank NA (Singapore), where he was responsible for credit, marketing, remedial management and structured finance, etc. Mr Poon was also the Senior Executive Vice President at United Overseas Bank Ltd. ("UOB"), and was closely involved in running many parts of the bank including corporate banking, corporate finance to branch and consumer banking, etc. He retired from UOB in May 2006 after almost two decades of service. In addition, Mr Poon had previously held directorships in various UOB associated companies and subsidiaries. He is also an Independent Director of other listed companies. Mr Poon also holds directorships in other private companies.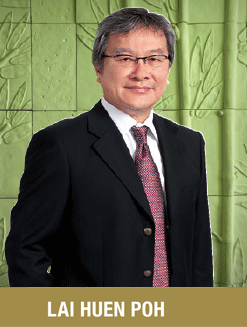 Mr Lai Huen Poh
Non-Executive Director
Mr Lai joined the board on 27 May 2008 as Independent Director and was redesignated to Non-Independent Non-Executive Director on 30 October 2012. He was last re-elected as Director of the Company on 28 April 2017. He is also a member of the Audit and Remuneration Committees.
Mr Lai has been a director of RSP Architects Planners & Engineers Pte Ltd since 1992, and is currently Senior Director. He is involved in a wide range of projects both in Singapore and internationally. Mr Lai is a Chartered Engineer with the Institution of Civil Engineers, UK, a member of the Singapore Structural Steel Society, the Strata Titles Board of Singapore, an associate of the Institution of Structural Engineers and the Association of Consulting Engineers, a fellow of the Institution of Engineers and the Society of Project Managers. He is also an Accredited Checker with the Professional Engineers Board, Singapore.
Besides his professional qualifications, Mr Lai has served on several BCA committees such as Construction Best Practice, Structural Robustness, International Panel of Experts (IPE) on Construction and Prefabrication Technology, IPE on BIM Technology, Assessment Panels for the Construction Productivity Awards, Construction Excellence Awards, Design & Engineering Safety Excellence Awards and BCA-SGBC Green Building Individual Awards, culminating in his appointment to the BCA Board and BCA Academy Advisory Panel in 2011. He is also an advisor and external reviewer to Nanyang Technological University and was also appointed to the International Panel of Experts on Lift & Escalators Safety. He is a Board Member of the Singapore Land Authority and also a member of the Pro-Enterprise Panel (PEP).
For his contribution to the nation through his service on the Strata Titles Board, the Ministry of National Development conferred upon him the Meritorious Service Award (Pingat Bakti Masyarakat) in 2011. In August 2018, he was conferred the Award of Public Service Star (Bintang Bakti Masyarakat).