Key Executives of The Group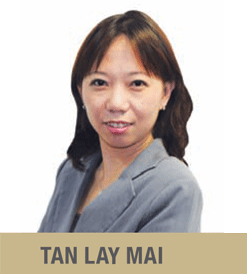 Ms Tan Lay Mai
Chief Financial Officer
Director: HLS Electronics Pte Ltd, Enviro Property Pte Ltd, EH Property & Investments Pte Ltd, Enviro-Power Pte Ltd, Enviro Restorer SRL, Leong Hin Builders Pte Ltd, EH Property Management Pte Ltd, QF Properties Pte Ltd, QF 1 Pte ltd, QF 3 Pte Ltd, QF 4 Pte Ltd, QF 7 Pte Ltd, QF 8 Pte Ltd, QF 9 Pte Ltd and HLS Property Pte Ltd
Ms Tan joined enviro-hub Holdings Limited ("the Group") on 26 July 2004. She was appointed as the Group's Chief Financial Officer on 1 March 2014. She is responsible for the Group's full spectrum of financial and taxation functions, including the Group's financial planning and analysis, financial policies and budgeting, corporate finance and accounting, treasury, internal controls and compliance with corporate, legal, tax and accounting requirements. She also handles investor relations, investments and acquisitions of the Group.
Ms Tan has more than 20 years of experience in accounting, treasury and auditing. She is a Certified Practicing Accountant of Australia, member of the Institute of Singapore Chartered Accountants and member of the Malaysian Institute of Accountants. Ms Tan holds a Bachelor of Business in Accountancy (Honours) from the Edith Cowan University (Perth, Western Australia).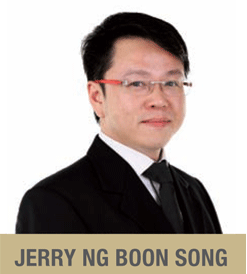 Mr Jerry Ng Boon Song
Director: Cimelia Resource Recovery Pte Ltd
Mr Ng joined Cimelia Resource Recovery Pte Ltd ("Cimelia") as a Senior Sales & Marketing Manager in 2011 and was appointed as Director on 19 November 2013. Mr Ng plays an integral role in the daily management of Cimelia, such as strategic planning, operations, international business relations and marketing events.
He holds a BSc. Management from the University of London and a Diploma in Electronics from Ngee Ann Polytechnic. Mr Ng possesses more than 18 years of extensive global e-waste experience and has spearheaded numerous projects, establishing excellent working relationships with many MNCs in the recycling and precious metals recovery industry. He is also credited with contributing to the strategic direction of Cimelia. Prior to joining Cimelia, Mr Ng ran his own company, which involved the trading of e-waste in the region. In addition, he has also headed several Sales & Marketing Divisions in other recycling firms.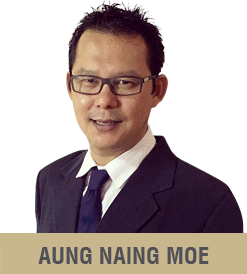 Mr Aung Naing Moe
Director: Leong Hin Piling (Pte.) Limited
Mr Aung joined Leong Hin Piling (Pte.) Limited ("LHP") since 1995. He was appointed as Director of LHP on 30 June 2017. He specialises in civil construction, geotechnical and piling projects. He oversees the business activities of LHP and is involved in many residential, commercial and institutional projects in Singapore for the past 20 years. These projects include Fixed Gangways & Associated Modification Works at Changi Airport Terminal 1, the Formula 1 (F1) Paddock Building at Republic Boulevard, a 36-storey Public Housing Development at Toa Payoh, 7-storey multi-user Warehouse/General Industrial Factory at Jalan Lam Huat, and construction of the station and viaducts for the Tuas West MRT Extension.
His M.Sc. research project/dissertation involves detail review of bored pile's case history in Singapore to conclude simplified piling design procedures and parameters. Building on an extensive academic and industry experience, Mr Aung has been involved in several major projects in Singapore and provided value engineering insight to resolve complex geotechnical problems.
Mr Aung is the Company's Technical Controller (TC) who oversees the execution and performance of all projects undertaken. He was accredited as a Resident Engineer by The Institution of Engineers Singapore (IES) and Association of Consulting Engineers Singapore (ACES).
Mr Aung holds a Master of Science in Geotechnical Engineering from the Nanyang Technological University, Singapore and Bachelor of Science in Geology from the University of Yangon, Myanmar.